In the 50s, Jayne Mansfield was one of the main sex symbols of Hollywood. This curvaceous blonde rivaled Marilyn Monroe herself. However, her star quickly set, and she herself died at the age of 34, leaving five children.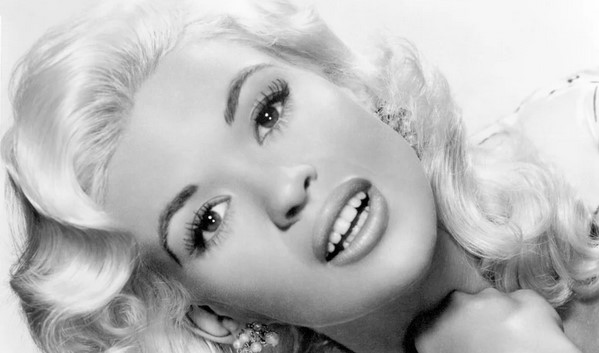 Excellent girl
Jayne Mansfield was born on April 19, 1933 in Pennsylvania in the family of a lawyer. She was one of the first students at school, was engaged in ballroom dancing, studied foreign languages, played the piano and violin.
At 17, Jane got married and had a daughter. The birth of a child did not prevent the girl from moving to Los Angeles and entering the university, where she studied acting.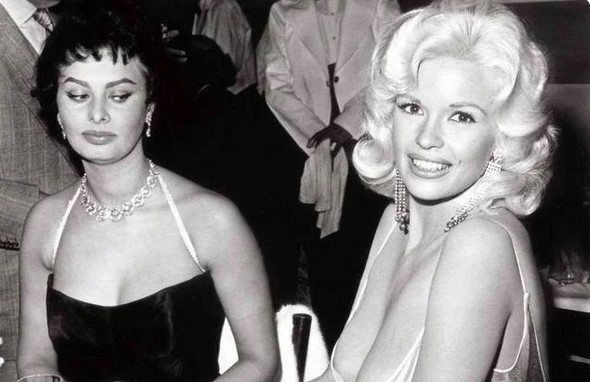 Jane dreamed of a career as a movie star and did not get tired of going to auditions. However, she soon realized that her talents, education and intelligence (according to some reports, her IQ reached 163) were unlikely to help her achieve popularity. Then the girl decided to bet on her appearance: she dyed her hair from a brunette to a blonde and lost a couple of kilograms.
Gorgeous blonde
Success was not long in coming. In 1955, the chic blonde starred for Playboy magazine, thanks to which she became famous, and she began to be invited to shoot films. Most often, she was offered the role of stupid blondes with outstanding forms. The parameters of her figure were really chic: bust — 102 cm, waist — 54, hips — 91.
Realizing that it was a luxurious figure that provides her with the attention of fans, Jane tried in every possible way to emphasize her charms.
The history of the famous picture with Sophia Loren
In 1957, Mansfield appeared in a revealing outfit at a party hosted by the Paramount film company in honor of the rising Italian star Sophia Loren. Then the famous photograph was taken, in which Lauren looks at Mansfield's neckline with a hostile look.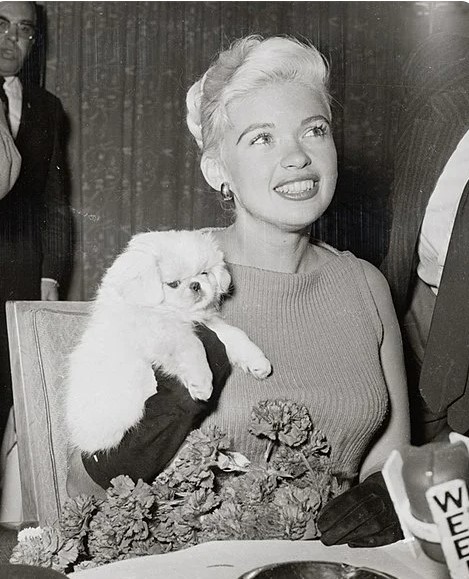 It seems that the Italian star is jealous of the magnificent bust of his American colleague. However, many years later, Sophie admitted that at that moment she did not experience envy at all, but … fear:
I LOOK AT HER NIPPLES BECAUSE I'M AFRAID THEY WILL FALL ON MY PLATE. YOU CAN SEE THE FEAR ON MY FACE: I'M AFRAID THAT WHAT'S INSIDE HER DRESS WILL EXPLODE AND SPILL ON THE TABLE…
But Jane did not experience any fear and embarrassment. She regularly appeared at social events without underwear, moreover, her breasts were repeatedly "accidentally" exposed. Such «accidents» made her one of the most talked about people in America and at the same time closed her way to serious cinema. A lady with such a reputation could only act in second-rate melodramas.
In 1955, Jane separated from her first husband. Her second husband was bodybuilder Mickey Hargitay. The couple purchased a luxurious 40-room mansion in Beverly Hills. At Jane's request, the house was painted pink, and Hargitay, a former plumber, built a heart-shaped pool on the property.
The couple had three children. From the outside, their marriage seemed idyllic.
Sunset
In fact, in the relationship of the spouses, everything was far from ideal. Behind the doors of the pink mansion, scandals broke out every now and then. In addition, Jane, who enjoys increased attention from men, did not consider it necessary to be faithful to her husband.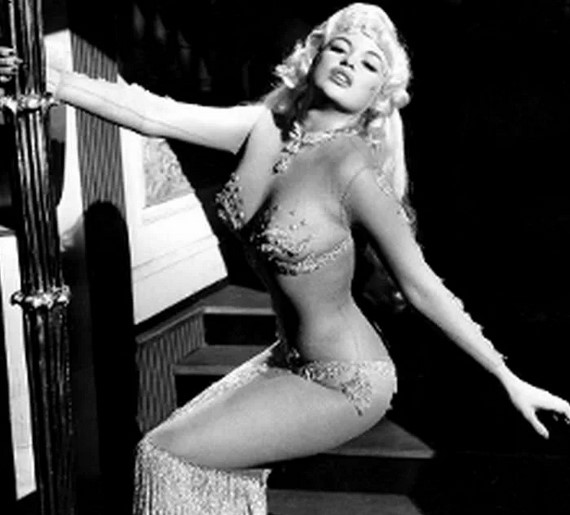 In 1962, the couple divorced. Jane soon married a third time to director Matt Simber, with whom she gave birth to her fifth child.
This marriage lasted a little over a year and broke up due to Jane's infidelities and her alcohol addiction. Soon she was no longer invited to the cinema. She performed in nightclubs, but was still popular. The last man in her life was her lawyer Sam Brody, who himself liked to drink and had a bad influence on Jane.
Tragic death
On the night of June 29, 1967, 34-year-old Jane, her three children from her second marriage, Brody and their driver were driving from Biloxi to New Orleans, where Mansfield was scheduled to perform.
Around 2:25 a.m., the car collided with a freight train. Three adults died on the spot. The children in the back seat survived with minor injuries.
Jane's funeral took place on 3 July. Mickey Hargitay was the only Mansfield husband present.